Workstation (DSE) Assessment
Display screen equipment (DSE) is any work equipment with a screen that displays information, often referred to as monitors or VDUs.
Computer workstations or equipment can be associated with neck, shoulder, back or arm pains, fatigue and eyestrain.
Many surveys have found that a high proportion of DSE workers report such symptoms.
Mostly these conditions do not indicate any serious ill health, but it does make good sense to avoid them as far as possible. DSE work is not risky, but like any work task it is important to follow good practice. For example setting up the workstation correctly, taking breaks and alternating work tasks regularly.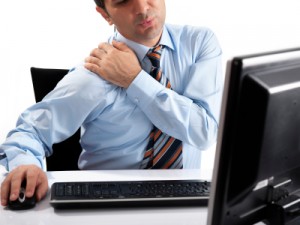 The Health & Safety (Display Screen Equipment) Regulations 1992 (revised 2002) aim to make DSE work more comfortable and productive, benefitting the worker and their employer. In order to help you fulfil these requirements, Treatment Solutions offers the following workstation assessments:
Display Screen Equipment (DSE) User Assessment & Report
Display Screen Equipment (DSE) User Clinical Assessment & Report
Drivers Assessment & Report